Driving Test - Learners Test
If you are looking for a trusted way of prepping for your driving permit exam, you are in the right place. Read below for further details. The practice driving test questions are completely free. They have been developed to guarantee an increase in your chances of passing the actual exam on your very first attempt.
Please select your province below to begin your Learners Test:
Passing the exam to get your licence isn't easy–it takes a lot of studying, preparation, and hard work. Here are free practice driving tests that can help you ace your learners test and be on your way to the open road.
When preparing to study for your Driver's License, simply reading through your province's driver's manual likely will not provide you with all of the relevant information you will need to be successful at passing the various tests which may be necessary, depending on your specific licensing and endorsement needs.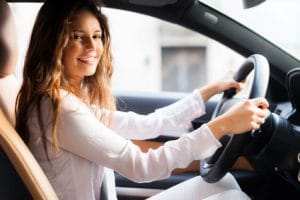 There is actually a significant amount of information to learn for a driving test. It is important not to cram. You may wish to begin studying or taking practice driving test a month or more in advance of your planned test date. If you have recently completed a drivers training course, then you should immediately follow that up with some weeks of studying and plan to take the test soon after. The longer you wait to take the test, the more likely you will be to forget material you had learned. This investment of time gives you what you need to process the information slowly and make sure it moves into your long-term memory. Cram sessions the night before a test don't move information into your long-term memory, so you ultimately forget most or all of what you studied by the time you take the test the next day.
It is also a good idea to read the handbook multiple times and take notes. Depending on your overall reading skill and learning style, simply reading the book over and over again may not be effective. Taking notes on difficult or complex sections can be very helpful. You may also want to try and teach or explain the rules and laws in the book to someone else who knows them. This act of teaching often helps to clarify the information for yourself. A more experienced person can also judge whether or not you are understanding the information fully.
There is usually a fee associated with the test. There will also be a separate license cost to pay after you pass the test. Be aware of these charges and prepared to pay them so they don't distract you from what's important: passing the test.
No matter what province you live in, DrivingTest.ca can give you step by step instructions on finding out information on where the closest testing centers are, how much it costs to obtain a new licence, and can help you find out if you need an appointment or not.