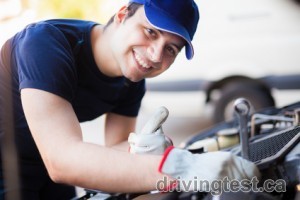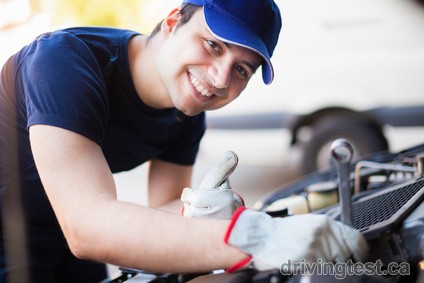 When you bring you car into an auto repair shop to look at a small issue, the mechanic may tell you about another problem that you were previously unaware of. You may choose to have an additional repair job done to resolve this issue. It is possible that the additional "problems" mentioned by the mechanic may not be there at all, and you may end up paying for unnecessary services.
Former mechanics have revealed that business pressure can occasionally influence them to be less truthful to customers. There is a chance that any problems found at the shop can be fabricated by the mechanics themselves, who hope to pull extra money out of your pocket. This article provides an overview of common tactics used by some auto repair shops to perform additional services and make more profit.
Some mechanics may oversell the extent of any problem found with your car. You may have a simple battery failure, and the mechanic will offer to replace it with an additional fee. Replacing a battery can be comfortably done by car owners for free. If you have the tools and know where the battery is located, then you can comfortably replace it yourself. Fees for this kind of "gravy work" can add up to hundreds of dollars.
Certain repair shops may attempt to turn a single service into a sale of multiple products. This can make a relatively inexpensive service become more costly and excessive. A simple oil change is worth $20 at the highest, but some shops will coerce you into buying coolants and flushes, these can incur a price three times larger than the original oil change.
When mechanics hand you the bill, you may notice charges for services you may not have asked for. Billing for nonexistent work is a tactic some shops use to make a higher profit. They can claim to install a new air filter, but may not actually do so. You may incur costs for services you did not receive, but believed you got. Some repairs require extensive time and skill. By watching the mechanics, you can tell what they have actually done based on the time spent on your car.
Some shops can add additional charges for their services by making simple work look difficult. In some cases, mechanics may shut off an air sensor system, which can be turned back on by car owners with minimal effort. Mechanics may restore the system, but inflate the cause and severity of the problem — they then charge a large fee for the "repair". The most expensive services can consist of work as trivial as spraying the exterior of the engine. This is comparable to simply air spraying the interior components of a computer.
Knowing how to avoid paying for excessive and unnecessary car services can be difficult without knowing your car itself. Study car diagnostics carefully, read the manual, consult with friends, and conduct research on the internet to understand what work you need and don't need. Being more knowledgeable about your car can help you precisely identify what affects your car and which repairs are required. This helps you avoid situations where you overpay for unneeded services.
Car owners lacking essential knowledge of car maintenance and diagnostics are the most likely to be lured into receiving excess car repairs. Being an educated car owner is important to avoid paying for deceptive or unnecessary work. If you only a need a replacement car battery, then ensure you leave the shop with only the battery. It may be too late before you even realize what you paid for; retrieving your money back can be a difficult and stressful process.