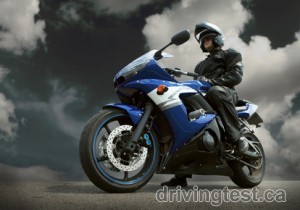 This online ICBC Motorcycle knowledge test, with multiple choice questions, is intended to help you prepare for the BC Motorcycle Test that is required before you can get your Motorcycle Class 6 licence. This free BC motorcycle practice test is a lesson that is essential for getting your British Columbia motorcycle license at your local licensing office. Please note, however, that this is not the actual test, and you will not receive your license if you pass this sample practice test.
If you're getting your Motorcycle License, you've come to the right place. It is all FREE!
BC Motorcycle Test Signs-Practice Quiz1
BC Motorcycle Test Signs-Practice Quiz2
BC Motorcycle Test Rules-Practice Quiz3
BC Motorcycle Test Rules-Practice Quiz4
BC Motorcycle Test Rules-Practice Quiz5
BC Motorcycle Test Rules-Practice Quiz6

Our goal is not only to teach people how to safely operate a motor vehicle, but also to give the best possible online training for becoming smart & skillful drivers in this highly motorized age.
Those who already have a BC driver's license will find the motorcycle licensing process to be easier. If you fall into this category, your first step will be to pass a motorcycle knowledge test. We have prepared this motorcycle practice test to assist individuals studying for a Class 6 or 8 British Columbia motorcycle licence.
Your Comments are Welcome!
Sometimes all it takes to succeed at something is good coaching. This applies to athletes as much as it applies to future drivers. The time spent preparing for the Driver's License written exam is the most crucial to take advantage of properly. With a little help, a perfect mark on the exam is possible, even if it takes more than one try.