DrivingTest.ca is an online driving test practice site that serves all provinces and territories in Canada. Advance through the practice tests at your own pace on any computer, tablet or mobile phone with internet access. While these tests are not the same as the actual ones you will be taking, they can give you a good idea of what to expect. It is all FREE!
MPI Driving Test – Rules 08
Congratulations - you have completed Driving Test 09. You scored %%SCORE%% out of %%TOTAL%%. Your performance has been rated as %%RATING%%

Your answers are highlighted below.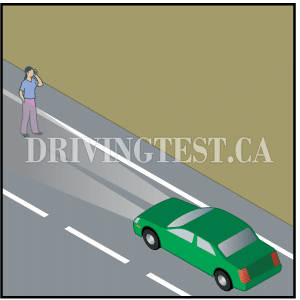 What is meant by 'overdriving' your headlights?
| | |
| --- | --- |
| | You are overworking your headlights, increasing the likelihood of failure |
| | All answers are correct |
| | You go so fast that your stopping distance is farther than you can see with your headlights |
| | Driving with high beam headlights all the time |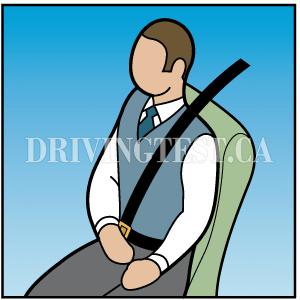 Wearing a seat belt in a collision, can:
| | |
| --- | --- |
| | Be worn |
| | Decrease your chance of being injured or killed |
| | Increase your chance of being injured or killed |
| | Do nothing |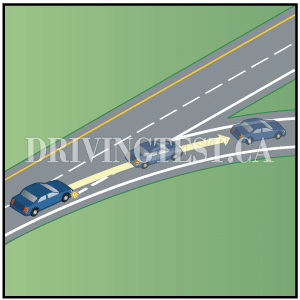 What should you do when exiting a freeway?
| | |
| --- | --- |
| | Do what the vehicle ahead of you does |
| | Signal and then stop to wait for an opening traffic |
| | Signal, move into the deceleration lane, reduce speed gradually and obey exit signs |
| | Signal, and then accelerate while merging smoothly into traffic and then proceed to the exit lane |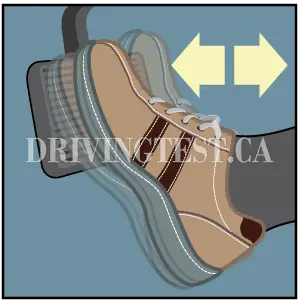 Vehicles equipped with ABS should provide controlled braking on slippery surfaces automatically...?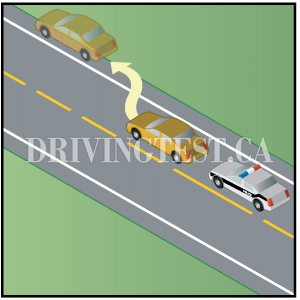 When a police officer signals you to pull over
| | |
| --- | --- |
| | Signal and stop at the nearest parking lot |
| | Slow down and stop in the lane you are in |
| | You must pull over as far to the right as you safely can and come to a complete stop |
| | Pull over as far to the left |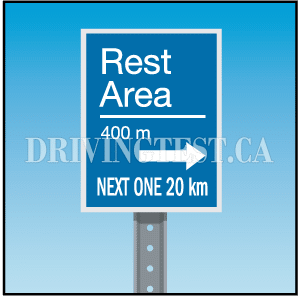 What should you do if you feel drowsy while driving?
| | |
| --- | --- |
| | Turn up your radio |
| | Reduce speed |
| | Stop for a short rest in a safe area |
| | Open the window for some fresh air |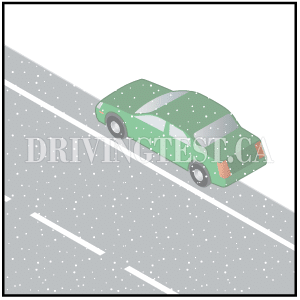 What should you do if you become stranded in snow?
| | |
| --- | --- |
| | All answers are correct |
| | Run the engine as needed to keep the interior of the vehicle as warm as possible |
| | Run your vehicle engine for approximately 5 minutes every hour to avoid effects of carbon monoxide |
| | Immediately look for help |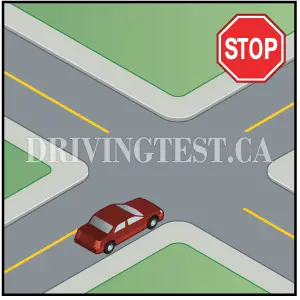 Coming to a complete stop at an intersection is required, but where do you stop if there is no stop line, crosswalk or sidewalk?
| | |
| --- | --- |
| | Stop right beside the stop sign |
| | Stop a little into the intersection |
| | Stop at the edge of the intersection |
| | Stop right before the stop sign |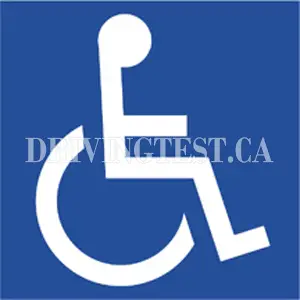 The Accessible Parking Permit?
| | |
| --- | --- |
| | It gives everyone in your family to park in a designated disabled parking space |
| | Allows parking everywhere during specified times |
| | Allows parking in designated space even if the person with the disability is a not passenger |
| | Issued to an individual, entitles the vehicle in which it is displayed to be parked in a designated disabled parking space |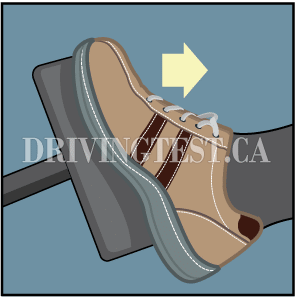 What is the safest action to take when your vehicle drives over black ice?
| | |
| --- | --- |
| | Ease off the accelerator and steer immediately to side of the road |
| | Brake hard while maintaining steering |
| | Calmly remove you foot off the accelerator and steer in the direction you want to go |
| | Braking and steering will provide the necessary control |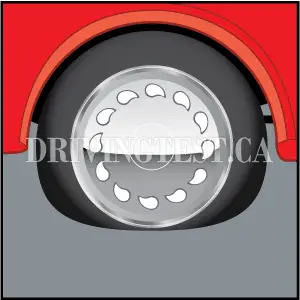 If a front tire goes flat, your vehicle will pull strongly to the:
| | |
| --- | --- |
| | left side |
| | right side |
| | side that has the flat tire |
| | side of the road |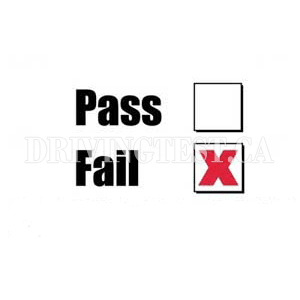 Road test failures may result from:
| | |
| --- | --- |
| | any or all of the other answers mentioned |
| | lack of skill and control |
| | unsafe actions |
| | difficulty obeying traffic laws |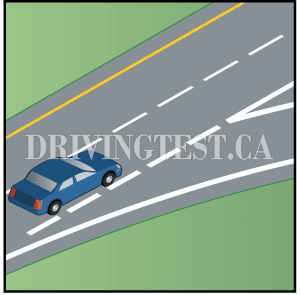 If there are continuity lines to the right of your vehicle in the lane you are in, what must you do?
| | |
| --- | --- |
| | You must change the lane as your lane is exiting or ending |
| | You must merge with the traffic to your right |
| | You must merge with the traffic to your left |
| | You are not required to do anything unless you want to exit. Your lane is unaffected |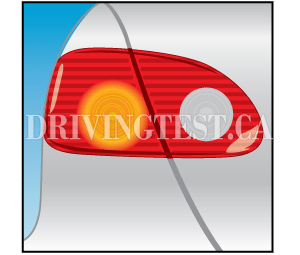 Why must you use signals when turning? (Choose 3)
| | |
| --- | --- |
| | None of them |
| | To notify the other driver(s) of your intention |
| | To advise pedestrians of what you want to do |
| | To send out an alert of your intentions |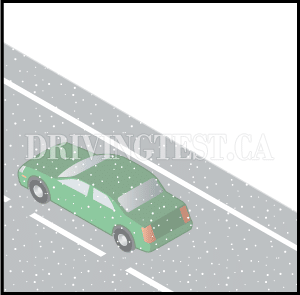 Winter traction is affected by slippery conditions, in winter drivers should drive:
| | |
| --- | --- |
| | Faster |
| | Whatever they like |
| | Slower |
| | Same as during summer conditions |
Once you are finished, click the button below. Any items you have not completed will be marked incorrect.
There are 15 questions to complete.
It is recommended that you take a practice test before you take the actual written test. Please note, however, that this is not the actual test, and you will not receive your license if you pass this sample practice test. If you're getting your driver's licence, you've come to
Everything That You Need to Know About MPI Driving Test in Manitoba
Despite where you reside in Canada, you must pass the Manitoba Public Insurance (MPI) driving test to start your driving career. It proves that you have the required knowledge of traffic laws, road signs, and safe driving practices.
Drivers licensing is a phased approach that helps drivers gain more capability via every stage of the licensing process. Therefore, people looking to acquire a Manitoba driving license should pass through the structured Manitoba motorcycle GDL, sit for the test, and excel in several exam challenges to finally obtain a full and unrestricted Manitoba driver's license. Remember that to pass your knowledge test, it's mandatory to get the right answers in 24 out of the 30 given.
How To Prepare For The Written Driver's Knowledge Test in Manitoba
Familiarize Yourself With The Drivers Handbook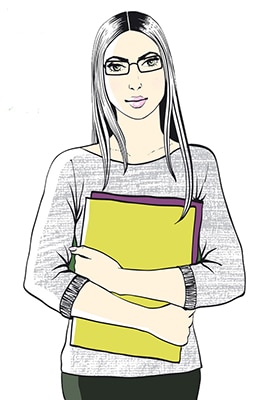 The territorial and provincial driving handbooks are full of detailed information in regards to driving in Manitoba. The information might be overwhelming, but your work is to go through it to familiarize yourself with the kind of material that the examiner will test you on.
While at it, just like any other exam, you should make some short notes and highlight some areas that you should revisit every time you are practicing for your test. It's a great approach to help track the progress. When you get back to the MB handbook, it now becomes easier to go through the various sections that are quite challenging. The book has an online version as well if accessing the hard copy is challenging.
Take The Practice Tests
These practice tests are great to help gauge yourself. They indicate the type of questions that you might come across while doing the MPI quiz for the driving test. Surprisingly, you realize that the same questions you did while taking the practice tests also appear in the real test. Therefore, taking a few online practice tests help you gain more knowledge on road signs and road rules.
Keep in mind that when you are preparing for any exam, the more you practice for them, the more ingrained the details get in the brain. For this reason, you should be well-versed and reread the challenging sections to prepare yourself accordingly for the exams. In that case, there are free practice tests that are online to help you with sufficient information before your first test.
Read Every Question Carefully
You must be attentive during the exam. Take every question carefully until you grasp what the examiner is testing on. Suppose you don't understand, you should reread each question carefully, and it would be devastating if you missed an answer or question incorrectly because you are in a rush.
Some examiners will use words that are a bit confusing to play with your mind, so ensure to pay attention, read the questions and answers carefully to provide the right answer at the end.
You Should Study Hard!
You should not take the MPI driving test lightly. It's an exam like any other! You need to create enough time and put more effort into passing and obtaining that driver's permit.
It would be great to be over-prepared on the exam date, and this will only happen if you invest more time studying hard. Try to focus on certain numbers like the maximum speed limit in various areas, the distance to give a school bus, and much more.
Stay Calm During The Real Exam
When you enter an exam room while stressed will earn you a poor grade; therefore, you should always clear your mind to remain relaxed and focused. It's a great way to help you complete your exams smoothly.
Sometimes when stressed, people tend to stop doing the exams, while instead, if you kept moving, things would work themselves out. It's important to relax, and surprisingly you will calm down so fast once you begin attempting the questions.
Take Away
Generally, sitting for a test is a scary experience that most people encounter, but that shouldn't be the case. With the above ways of preparing for an MPI driving test in Manitoba, Canada, you will successfully score the highest mark on your first attempt. The tips will help you gain confidence and be ready to take the written test and obtain your driver's license.